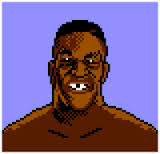 Mike Tyson battled Donkey Kong in Gaming All-Star Rap Battles #1. He was voiced by Brandon.
Information on the Rapper
Edit
Michael Gerard "Mike" Tyson (born June 30, 1966) is an American retired professional boxer. Tyson is a former undisputed heavyweight champion of the world and holds the record as the youngest boxer to win the WBC, WBA and IBF heavyweight titles at 20 years, 4 months, and 22 days old. Tyson won his first 19 professional bouts by knockout, 12 of them in the first round. He won the WBC title in 1986 after defeating Trevor Berbick by a TKO in the second round. In 1987, Tyson added the WBA and IBF titles after defeatingJames Smith and Tony Tucker. He was the first heavyweight boxer to simultaneously hold the WBA, WBC and IBF titles, and the only heavyweight to successively unify them.
Looks like this ape wants to come at my good aim and precision
If you want to fuck with me, you'll have to get through my pet pigeons!
I'll punch your lights out; I'm the one thing that you fear
So come out the tree house and battle me, you primian queer!
You might have the big muscles but you just throw them useless barrels!
I fought your entire Nintendo crew, left them in peril!
So step to the ring and fight me you silly little ape
With a hook to the jaw, it's like Saw, there is no escape!
Bitch, I'm a fucking poet, you're a banana eating chimp!
Just fight me like a man; you'll become the meaning of wimp!
There's only one reason why your initials are that way,
It means dick, starts with a D and ends with a K!
Mike is a real person, but since he has his own videogame, it counts.
He is the first character based on a real person to appear in a battle.